Welcome to Meir Heath & Rough Close Village Hall.
The village hall is in Grange Road, Meir Heath, on land leased from Fulford Parish Council and adjacent to the Councils Grindley Park recreation area.
The hall was built mainly for use by residents of Meir Heath & Rough Close, and was officially openend in April 1996 and extended in 2007/8. This extension included a parish office which is run by Fulford Parish Council.
A management committee is responsible for the running of the village hall and this committee, made up of volunteers, is elected annually at an AGM in September of each year. The organisation is a registered charity.
Money raised by the letting of the hall provides the funds needed for the general running and maintenance of the premises. New Committee Members Are Always Welcome.
The premises consist of a main hall, a smaller functions/meeting room, large kitchen and toilets - all areas are accessible by wheelchair.
For the location of the village hall see map.

View Larger Map
Meir Heath & Rough Close Village Hall
Grange Road, Meir Heath,
Stoke-on-Trent
Staffordshire
ST3 7BH

Contact - +44 (0) 1782 399396 or 01782 393939

For More Information On Findind Meir Heath & Rough Close Village Hall Visit AA Routfinder and enter the Post Code ST3 7BH

Or visit Google Maps
The Main Hall
Photo show typical use/layout for the Main Hall, ie. for a wedding/party type function.
The adjacent kitchen provides adequately for self catering and there is a serving hatch directly into both the main hall and smaller function/meeting room.
A licensee is available, should a bar be required for a function/activity.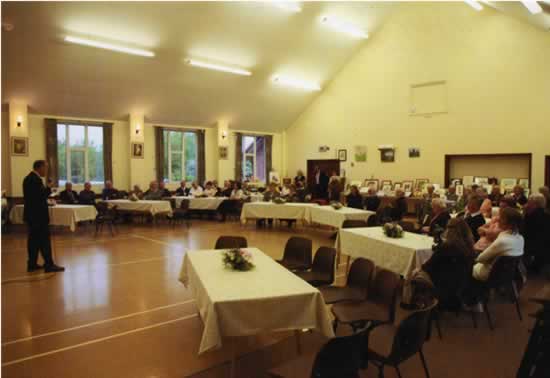 ---
Affordable Websites &copy - Keith Hammersley +44 (0) 1782 388167